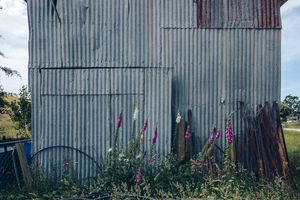 Wrekin
'The Wrekin' Vineyard lies within its own small valley located on the north facing slopes of the larger Fairhall Valley. It is part of a sub-region of Marlborough known as the Southern Valleys, generally considered to be the best area for pinot noir growing.
This is one of the highest vineyards in the valley. Its ancient clay soils overlying greywacke parent rock are significantly different from the loess soils occurring in the lower areas. The elevation, rolling hillside and orientation of the vineyard blocks, which were established on undisturbed soils, also contribute to the unique terroir of this site.
The pinot noir, grown on a mixture of hillside and gentle slopes, is highly structured, with rich red and black cherry characters, and we find textural stone fruit flavours from the chardonnay. There is also a planting of chenin blanc on a steep hillside behind the farmhouse.
'The Wrekin' is committed to organic viticulture and the use of biodynamic practices and has full organic certification with BioGro.
Grown by Jan and Andrew Johns
Latitude -41.576378
Longitude 173.824981
Wairau Valley, Marlborough, New Zealand
Low slope
tight clays
—chardonnay: clone 95
—pinot noir: clones 114, 115 and 777.
High slope
tight clays
—chenin blanc
—pinot noir: clones 777, 667, 943 and 828
Flat
tight clays
—pinot noir: clones Abel, 10/5 and 667
BioGro organic certified
Sustainably certified SWNZ