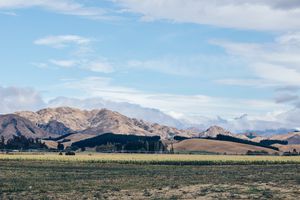 Trelawne
The Lissaman family have been farming in the Awatere Valley since 1900. Guy and Jane Lissaman initially began farming at Trelawne in 1994 with a mixture of sheep and crops. Here on the fertile terraces of the south bank of the Awatere River, Guy and Jane grew vegetables and small seeds before discovering its potential as prime vineyard land, with the first vine plantings in 2001. Grapes are now planted in most of the old paddocks, with a range of varieties.
The land here is gently undulating to rolling, with moderately well drained, deep silt loam soils of old loess from the dissected high terraces. The soil is deeper and more fertile than on the north side of the river. This site is windier and cooler than elsewhere in the Awatere valley and normally our last fruit from the Awatere to be harvested.
The sauvignon blanc grown in the north block has flavours of white peach which move to intensely green flavours of jalapeño and tobacco toward the north east. The pinot gris at this vineyard is strongly aromatic, with peach and spice notes.
The quintessential Awatere character of the sauvignon blanc from these slopes and terraces underpins the style of our Awatere Valley Sauvignon Blanc.
Latitude: -41.688836
Longitude: 174.014169
Awatere Valley, Marlborough, New Zealand
Grown by Jane and Guy Lissaman
South terrace
deep silt loam
—sauvignon blanc
—pinot gris
North terrace
deep silt loam
—sauvignon blanc
River terrace
deep silt loam
—pinot noir: clones 667, 777 and 115
Sustainably certified SWNZ