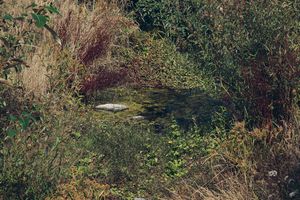 Little Oasis
The Little Oasis vineyards, owned by Geoff and Rachael van Asch, sit in the mid to lower Awatere Valley on the north bank of the river. This land has been farmed by the same family since the late 1840s, and Dashwood Corner was planted with grapes by Geoff and Rachael van Asch in 2005. It sits on gently undulating, well drained, shallow sand and silt loams from stony greywacke alluvium of the intermediate stream terraces and fans, with a clay pan at 700mm and 300mm thick in places. Here the van Aschs grow sauvignon blanc with white currant and passion fruit notes and pinot gris with citrus rind and stonefruit flavours.
Further west, just up the Awatere Valley Road, Geoff and Rachael van Asch have planted another block on old family land, known as Windmill block. Windmill has similar soils to Dashwood Corner and is recently planted with pinot gris, chardonnay and sauvignon blanc.
In a tiny gravelly basin, sheltered from the blustery winds of the Awatere Valley, Geoff and Rachael van Asch have a magic little vineyard. From its well-drained stony sands to shallow silt soils of the low and intermediate stream terraces and recent fans, Little Oasis produces white currant and passion fruit flavoured sauvignon blanc. At the threshold of Geoff and Rachael van Asch's homestead, guarded by two massive standing stones, is the Rocks vineyard. Located next door to Little Oasis, The Rocks vineyard shares the same soils, but here pinot gris with peachy flavours is grown.
Latitude: -41.633211
Longitude: 174.101589
Awatere Valley, Marlborough, New Zealand
Grown by Geoff and Rachael van Asch
Dashwood Corner
free-draining stony alluvium
—sauvignon blanc
—pinot gris
Little Oasis/The Rocks
stony, sandy silt loams
—sauvignon blanc
—pinot gris
Windmill
free-draining stony alluvium
—chardonnay: clones 548 and 95
—pinot gris: clones 52 and 457
—sauvignon blanc
Sustainably certified SWNZ