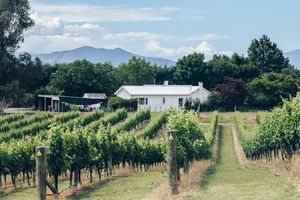 Lone Gum Cottage
The Cottage block at Lone Gum is in Marlborough's Southern Valleys, where the Wrekin valley joins the Brancott valley. This site is just down the valley from Wrekin vineyard. The Southern Valleys region of Marlborough is part of the Wairau Valley, but the soil composition and terrain are very different from the plains.
This is one of the drier parts of Marlborough, with vines planted on the clay hill slopes. This is primarily known as pinot noir country, but here sauvignon blanc is grown on gently to moderately drained clay soils of stony alluvium from the undissected older terraces. Cottage block is often a later ripening site, due to the heavier soils.
The Southern Valleys terroir of Cottage Block produces sauvignon blanc that adds a distinct flavour profile to our Marlborough Sauvignon Blanc, often presenting with ripe white peach and a fuller body.
Grown by Ben and Lisa Halliday
clay
—sauvignon blanc
Sustainably certified SWNZ
Wairau Valley, Marlborough, New Zealand
Latitude: -41.565953
Longitude: 173.832983