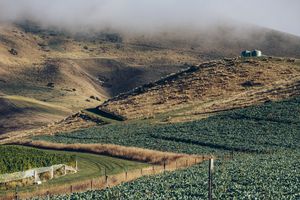 Taihoa
Our southernmost grapes are sourced from Paddy and Anna Trolove's Taihoa Vineyard, located on Marlborough's Kēkerengū Coast. Taihoa is our foundation Kēkerengū vineyard. The moderating influence of the nearby sea promotes early spring and budburst. It is more exposed to cooling late summer sea breezes and is not sheltered from the cold southerly winds that miss the rest of Marlborough, giving an exceptionally long growing season.
Taihoa vineyard is made up of two small blocks of vines located on the available flat terraces of this rugged working farm. The Troloves raise sheep and cattle, and the blocks are surrounded by deer fencing to protect from the wild deer that come down from the mountains. Soils here are loamy with fragmented limestone content. The topography allows for good air flow, with gullies surrounding the vineyard terraces.
Taihoa is divided into North and South block, and soils are free-draining across both sites on the farm. South block is surrounded by hills on all sides, save for a small gap facing the ocean. The limestone Mole Hill provides gravity-fed spring water irrigation. Taihoa North block is an elevated site that is adjacent to native bush, and you can hear birdsong and smell the sweetness of the beech and mānuka trees.
Grown by Paddy and Anna Trolove
North Block
fragmented limestone loam
—sauvignon blanc
South Block
fragmented limestone loam
—sauvignon blanc
Sustainably certified SWNZ
Latitude: -42.025075
Longitude: 173.946769