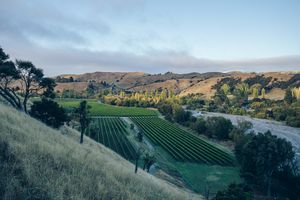 Sleepers
Chris and Lynne Wilson's Sleepers Vineyard at Kēkerengū, in the extreme south of the Marlborough winegrowing region, is our most coastal vineyard, with a picturesque and historically rich setting. Its coastal location promotes early spring and budburst, and it is more exposed to cool southern airflows and late summer sea breezes, giving an extended growing season.
Alongside the Kēkerengū River, sauvignon blanc is planted on a low river terrace of free-draining limestone loam with, at times, a very shallow alluvial silt overlay. The sauvignon blanc typically presents with a floral perfume and green passionfruit notes. A little higher up, Albariño is grown on an elevated river terrace of deep silt loam interspersed with fragmented limestone. Kēkerengū's strongly maritime climate and limestone soil gives salty, zesty Albariño with a taste of the nearby sea. The highest terrace is planted with pinot gris and pinot noir, which are both vibrant and floral. All varieties exhibit a pronounced minerality.
This land, part of an old farm station known as Mad Cap Flats, still has two of the original cob buildings built in the early 1860s, which have been fully restored by Chris and Lynne.
Latitude -41.998267
Longitude 173.999842
Kekerengu Coast, Marlborough, New Zealand
Grown by Chris and Lynn Wilson
Riverbed terrace
limestone gravels
—sauvignon blanc
Middle terrace
fertile loams with fragmented limestone
—Albariño
High terrace
fertile loams with fragmented limestone
—pinot gris
—pinot noir: clones 667, 777, 10/5 and Pommard (clone 5)
Sustainably certified SWNZ